Rhodes Greenhouses History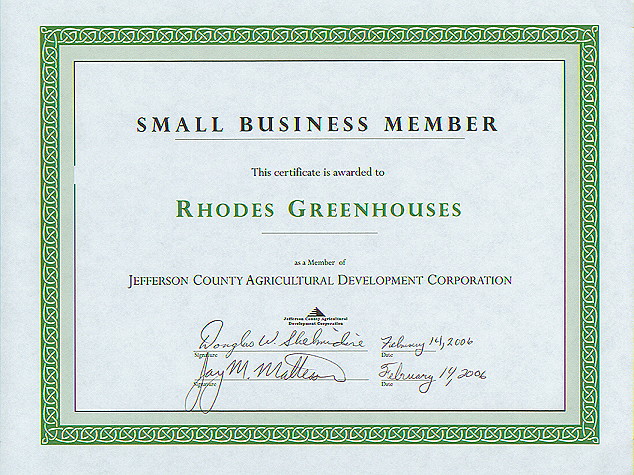 Rhodes Greenhouses was started in 1962 in a wood framed greenhouse by Leland and Gerene Rhodes who had also operated the Triangle Gardens Greenhouse operation in Adams, New York starting in 1947. Mr. and Mrs. Rhodes moved to Henderson in 1962 and started the process of building the greenhouses, eventually moving some of the greenhouses from the former Adams site to Henderson, New York.
The business was bought by their son, Gary, in 1982, and he started to build the business up, until it became the largest grower of spring plants in this part of New York State. Customers come from all over this part of the state to obtain some of the best grown plants around.
The Secret
Rhodes Greenhouses only grows one crop a year which allows the plants to grow slowly and to store nutrients and vitality until they are taken home by the customer and planted.
By growing their own materials, Rhodes Greenhouses can pick and choose new varieties from many of the most advanced plant breeders around which accounts for many of the new and exciting plant varieties that end up on the greenhouse benches each year.
Wouldn't you like to make the money that you put into your flowers a real investment? Of course you would, you want them to last, and that is why we recommend flowers and other plants that are Proven Winners. Proven Winners are a line of outstanding varieties of spring plants that are sold in our greenhouses. The Rhodes family has been trained in the care and sale of these great varieties of plants.
Rhodes Greenhouses is a Tourist Attraction!
Many people come to the greenhouse to shop, but also to bring their children and relatives and to take a tour of the greenhouses, the display gardens, and to take a break in the gardens and the Veteran's Memorial which is located on site.